The Elsie Pearce Award
In the mid 1970s whilst training at the Middlesex Hospital I was often told that as a Middlesex trained nurse, the world would be my oyster.
I imagined travels and work in Australia, New Zealand or perhaps Canada, but I never foresaw using my theatre nursing skills some 40 years later in the theatres of a hospital ship in Guinea, West Africa.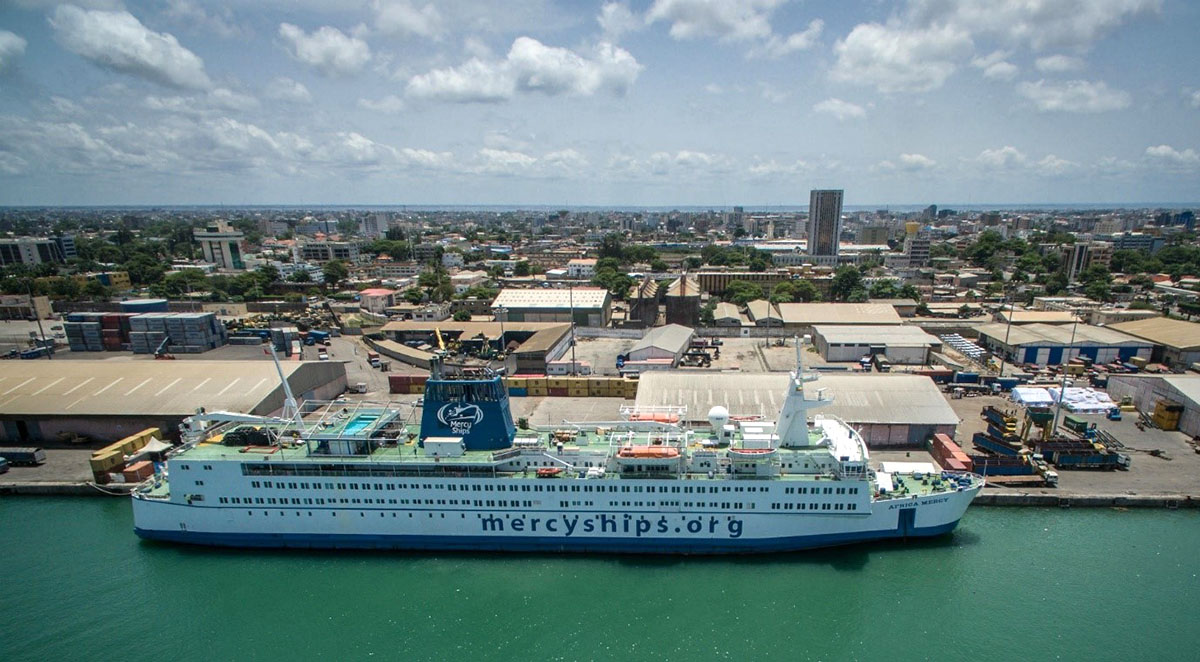 In October 2018, supported by an Elsie Pearce bursary, I set off to volunteer with a charity called 'Mercy Ships' on its hospital ship, the Africa Mercy, berthed in the port city of Conakry in Guinea. The ship is the largest private hospital ship in the world, it is home to more than four hundred volunteers drawn from all around the world who staff the hospital and all the office functions that a hospital needs, plus the engineers and technical crew needed to keep the ship functioning. On board there are five operating theatres and a recovery room. Among the other facilities are an ITU, X-ray and CT scanner, a pharmacy, a laboratory and ward beds for 80 patients: adults, children and babies.
Each day pre-screened patients arrive on board to undergo surgery for a range of problems in one of the five operating theatres; from hernias to life saving goitre surgery, orthopaedics, plastic reconstructive surgery and extensive Maxillo-facial procedures and much more. For the patients all of this is absolutely free.
I was glad to be able to use my ophthalmic theatre knowledge and skills with the ship's eye team. The team were restoring patients' sight by cataract surgery and implanting replacement lenses. All of these patients were blind prior to surgery, some since birth. So this surgery could mean the difference between being able to support themselves and their families, or not. After the cataract operation the patients walked out of the theatre wearing a protective eye patch meaning they could not yet see anything. However, the next morning the patients returned to the ship and the dressings were removed and their eyes examined. Their expressions of delight at being able to see moved me at times to tears. Their response, often emotional, made our work in the theatre even more worthwhile. In poor countries where access to safe surgical care is very limited the sense of reward experienced is tremendous. In turn this underlines why I became a nurse and am still nursing; which is to make a difference to peoples' lives.