Middlesex Doctor Remembered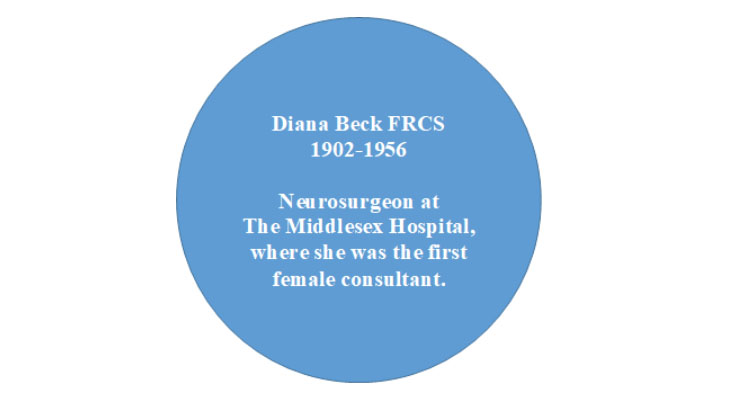 Diana Beck FRCS 1902-1956. An application has been made for a Blue Plaque to be placed on the site of her residence. It has yet to be decided on which of her homes the plaque should be placed.
English Heritage and other Blue Plaque organisers are all aware that there is a relative paucity of women represented in the system. Diana Beck is a natural choice as she is not only the first woman consultant at the Middlesex Hospital in 1946, she is also the first woman neurosurgeon in the World. Furthermore, she was the first woman appointed to a London Teaching Hospital in any specialty (other than to the Royal Free Medical School for Women - which, incidentally, she was appointed too, as well, in 1943).
Neurosurgery was a tough discipline in the 1940's. There were few specialist centres around, and really only a handful of neurosurgeons in the UK. Investigations were primitive, mainly relying on history and examination to make surgical decisions and many patients died, despite or because of their interventions. The operations were long and arduous for the surgeons as there were no power tools, microscopes and lighting was poor. Equipment that we are used to in the 21st century had not even been invented.
Sadly, Diana Beck was not in the best of health and she died in her mid fifties. There is a memorial plaque to her in the hospital chapel